HANGGLIDING AND PARAGLIDING  IN VOSGES / ALSACE
Paragliding sites AND LANDING ZONES from Alsace- Vosges
An english description of Thur valley 
Vosges paragliding sites
is present, it's a .pdf file.
On July 18 military base of Meyenheim closed, so manyf airspace areas of Vosges and Alsace  have been  freed for paragliding and hanggliding.
 PARAGLIDING RESTRICTED AND CONTROLLED AIRSPACES FROM VOSGES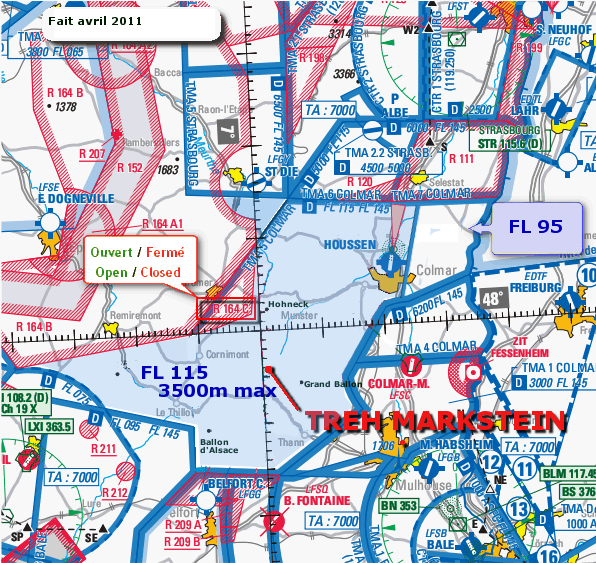 Airspace map - 2009
There is 2 civil airports (Bâle-Mulhouse and Strasbourg) and 2 military airports ( Luxeuil and Nancy-Ochey) near Vosges'mountains . 
People may have difficulties to understand the airspace map :we have made a simplified sketch where civil areas are blue and  military areas are red! Before paragliding or hanggliding in Vosges, you must learn those controlled airspaces. 
We only have a full french version of advices for reading map, see "Espace aerien".
By default vertical limits of our flights above Thur valley (and south Vosges) raises to 3500 m (FL115 - VFR) every day!
There is still the  "Longemer sector" linked with R164-C, a military training  airspace. Most of the time, outside week-end, paragliding or hanggliding flights are not allowed. But that can be open some days. 
From Monday to Friday, sector state is normally set  between 10.00 and 12.00. You can have access to its state by this link  Etat des secteurs Vol Libre. By default sector is not open.
PARAGLIDING  VOSGES AIR SPACE : SECTEUR MARKSTEIN
PARAGLIDING AND HANGGLIDING AIRSPACE OF VOSGES 
From GERARDMER to  MUNSTER - West to East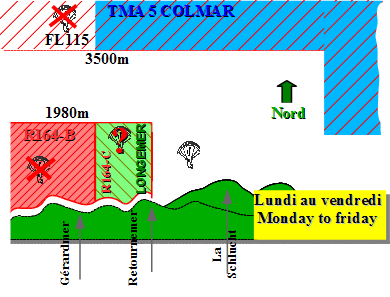 or (for recent and compatible CCS3 browser)
© LAVL  Last update JUNE 15th 2011